If you ever loved a dog, if you ever lost a dog, regardless of breed, you must read one of the most beautiful books ever written about dogs.
Read the first chapter
Read reviews
Find out how to buy it

written by Rhoda Lerman,
owner of Blue Heaven Kennels

2007's Week of Puppies
Where did Celeste, Elsa and Bumper's 2007 puppies go?
They've moved over here...

Juno's 2011 Puppy Pages Baby Pics:

Watch Juno's pups
grow up

Rosie's 2011 Puppy Pages Baby Pics:

Watch Rosie's pups
grow up


Two photos from 1994 that we just received in Dec 2009
(Our first) Molly at 4


Pippa (aka Peeh-Pah) at 18 Months


Packard at 10˝


Family resemblance? LaaLaa &
Theo's daughter, Maggie, at 4 yrs.


Great Grandmother Katie at 13˝


LaaLaa at 11˝
(summer 2010)
Compare to her pic at 3˝ yrs

More family resemblance. Katie's Great Granddaughter, Rosie at 8 months.


Instructions from the Newfie manual:
Keep mouth & eyes shut tightly
when getting a smooch


Tribute to Rhoda in Newf Tide 45th Anniversary Issue

Deepest thanks to everyone who helped make this beautiful tribute come about.
Pass the kleenex! :'(

Blue Heaven Family Gathering

The Blue Heaven Family is more than our dogs,
it is all of you who have brought our beloved dogs into your families.
It brings us such joy to see that the humans also feel like family.
This spring, Kate Kuharic, part of the east coast Blue Heaven Family,
was in California and met some of the west coast contingent.
We received an email from Moby's mom, Barbara Berkowitz, titled
"Blue Heaven West welcomes Kate Kurahic!"
Here are Moby, Owen and Siri with Kate, Sahaja, Alex and Rob.


Blizzard of 2016

Mabel is enjoying the blizzard.


And because our babies look like panda bears,
check out Tian Tian the panda at the National Zoo enjoying the snow.

Rhoda Awarded AKC Breeder of Merit

We were happy to get a letter from the AKC at the end of 2015 recognizing Rhoda as a Breeder of Merit.
Here is how the AKC describes the program:

AKC Breeder of Merit Participants demonstrate a commitment to the AKC Community,
dedication to their breed(s), and actively promote the sport of purebred dogs.
The AKC is proud to recognize AKC Breeders who are dedicated to breeding beautiful purebred dogs
whose appearance, temperament, and ability are true to their breed.
These breeders are the heart of AKC.

You can read more about the Breeder of Merit program on the AKC website.

Blue Heaven West Coast Chapter


There are a bunch of Blue Heaven dogs living in Southern California. From Moby's mom, Barbara Berkowitz, we got this note and pics.
Omen, Freya, Moby, Siri, Apollo and Hermes love getting together. Yesterday, Omen, Siri and Moby played.
Last week Omen, Freya, Apollo, Siri and Hermes got together, and the week before, dog mums Sahaja, Alex and I were together.
We are all grateful to Bob and Rhoda!
A picture of all 6 will be included in the Southern California Newfoundland directory which comes out later this month.

Our Saddest News, August 30, 2015

Rhoda has suffered from Thyroid cancer for some time. After spending much time in the hospital, she finally came home in hospice several weeks ago. The main purpose of hospice is comfort care. It functions to make her as comfortable as possible and as pain free as possible. I believe we accomplished that. Last night she went to sleep and passed away overnight. We hope and believe that she did not suffer since it happened while she slept.

She was dearly loved by many people, but mostly by you people who had her dogs. The quilt and pillows are a sign of that deep love.

More info is at rhodalerman.com

A New Champion!

Ch. Blue Heavens Chatty Cicero
November 19, 2015


This lovely email came from Kate Kuharic. While Kate was on sabbatical,
Cicero and Annie were doing a show circuit with Mark Desrosiers.
Before Kate left home a few months ago, neither dog had ever shown before.
Cicero just finished and Annie is oh-so-close already! We are all so proud.

Blue Heavens Madame du Barry (aka Annie)
Best of Breed, Oct 12 2015


Visits!

Caleb (Elsa/Solomon 2007 litter -that big litter) came to visit with his family,
Michael and Marcy Partnow and his older brother, Zeke!



From The Archives


Cheryl Smagala is the mom of Loki, who came from Elsa's famous litter of 17. She sent us this pic recently.


New Newfie News
Summer 2015

Ben is living in Vermont now with Helen and Paul Huyffer. Our daughter Julie is only 25 miles away.
We were also so happy to see Ben (and the Huyffers) at Rhoda's funeral.
Ben is among giants, living with a young Irish Wolfound named Mac,
and a 10 year old Leonberger who keeps both boys in line.

Annie and Cicero are living the dream at a college campus with 1800 students
who *all* want to pet them. If that is not enough, these two just points at their first show.

Cicero was Winner Dog: 1point.
Annie was Winner Bitch, Best of Winners & Best of Opposite: 1point.

The incredible quilt given to Bob & Rhoda by so many of their "puppy owners".
We love it and we love you all. Thank you so very much.
(Click on the quilt & pillows photos for full size so you can read it all)


& pillows, too!


Annie with her new boyfriend, Cicero


Violet Loving Ohio Residency


Violet holds court!

A few pics from our own back yard.

Solomon could get a job as a photo stylist! He picked the spot.

If there is a couch or chair, Katie will be there!


Good old Theo. There is nothing like a roll in the grass. Smiley boy.


---


Boomer guarding His Flock

Mommy-To-Be
Here is Lulu before we knew she was pregnant (probably she did).
She went around the house, collected all of her toys, one by one,
took them outside and set them up in a semi-circle.
Then she positioned herself so she could watch all of her "babies" at once.
This is absolutely the sweetest thing.



"Elsa was Born a Dog,
I was Born a Human..
Things Have Changed"
Order your signed copy here

If you have a Kindle, it is available on Amazon: here.

Other digital & e-book formats on DogWise: here

We have a website
dedicated to the book
BornADog.com

Mother's Day 2014

Rhoda with Moby (Moby lives in California)


Clark (left) thinks that Izzy is a pretty good mother, too!


_____________A great honor for Rhoda's New Book____________

On Sunday night, February 9th, at the Westminster dog show, my book Elsa Was Born a Dog, I Was Born a Human…Things Have Changed received the Merial Special Award for the best work on Human-Animal Bond. Merial is a large company that manufactures veterinarian pharmaceuticals. The award was for "the work that best highlights the unique relationship between a dog and its owner and best brings to life the concept of the human-animal bond". There were 700 entries and I was told that there was strong competition. It was presented by the Dog Writers Association of America. Rhoda says, "I am very pleased that my book has been honored by other writers."

So many November litters!
____________And we have 2013 Birthday pics____________
2007: Year of the mega-litters from Elsa, Bumper & Celest. Now they are 6!
2011: Juno/Sailor's pups are now 2 years old (pics coming soon)
2011: Rosie/Sailor's pups are now 2 years old
2012: Rosie & Ben's puppies are One!

________________________Chef at 6________________________
Providing Comfort to so many as a Certified Pet Therapy Dog

Although, she was not destined for the show ring, Chef is in service as a certified pet therapy dog with The Good Dog Foundation. Every week we see children in psychiatric hospitals, visit autistic and bipolar school children and participate in Reading with Rover. One seven year old asked me why I had a dog that looked like a cow!

We were also invited to the Newtown Elementary School where the Sandy Hook teachers and kids went after the re-opening. The kids swarmed Chef and the teachers put their heads in her big fuzz-head and cried. She was so amazing - sweet and calm - and a favorite of the principal. I'm so thankful for her. She's the queen bee of my Newf family and Mr. Blue and the puppy Oso adore her as we do.

See lots of new photos on Family Album Page 6!

Excuse me, this is Georgia. Why is there ice in my pool?
(Beth, a Ben and Rosie puppy)


Muddy Elsa thought this was a much better option
than going downstairs for a bath.


Moby Out Hiking with his buds, while his Cousin Enjoys the Book

Happy Birthday Lily!

Bobo Gets the Points!

Because they are all just lap dogs

Boomer, son of Rosie and Sailor just 22 mo. beginning his career in Atlanta mid October.
We're dying to watch his big moment

Summer Fun!

Squee! Cash is in Vogue Magazine!
Cash poses with Jennifer Lawrence in the Sept 2013 issue.
More here
Thanks to Cornelia Guest for giving him such a glamourous life.

Elijah's First Point
Chenango Valley Kennel Club, June 29 2013

Left: Sammy (Juno/Sailor 2011 litter) Right: Boomer (Rosie/Sailor 2011 litter)


_______Past Litters are celebrating Birthdays again____________
Here are pics:
Juno's 2011 Litter at 1 Year
Rosie's 2011 Litter at 1 Year
Bumper, Celeste and Elsa's 2007 litters at 5 years old

Eli Wins a Major

Eli is l5 months old. He's the son of Watchbear's Sailor and our Rosie. This was his first time ever in the ring and he took some big time points as Best of Winners!
.

Beth's Swimming Lesson
Another of Rosie's recent puppies. She lives with Bou and Eisenhower, the pig.

Kayak at the Office
"When I turned my back she was cookin' the books and giving herself a raise!"

"


Oct 27: Blue Heaven's Roosevelt's New Deal, a Juno & Watchbear Sailor daughter
took a 3 point major today in Massachusetts.
This is a very big deal for a puppy who is only 11 months old and an even bigger deal in New England.
She beat some great grown-up dogs.

At only 9 months old, Lulu (a Rosie puppy) has just taken the points
with a win at a show where she beat mature Champion bitches!

____________Fall Fun____________

Moby's hiking playgroup encounters another hiking playgroup in the mountains above L.A.
Hiking Playgroup? Yes, we are all jealous.
Can you pick him out? Moby is one year old and 143 pounds!



Hannah comes to visit, much to Elijah and Solomon's happiness


___________Update to Ordering In the Company of Newfies__________
You can get a signed copy of Rhoda's book directly from us through our Blue Heaven Books website.
Ordering will be processed for us by our daughter's company website, KatiesBumpers.com, which takes credit cards.
While you're there, you might want to pick up some dog toys! More info here.


___________Finally a Solution for Finicky Eaters___________
We've learned about an easy solution for dogs who won't eat. Bring in the pig!
Bou, who has to be fed by hand, will eat everyhting to the bottom of her shiny bowl in self defense
as soon as Eisenhower comes into the kitchen.
Don't have to change the diet; just get a 400 pound pot belly and you're good to go.


_______________*THE* World Champion Veteran!!!_______________
Our Rudy, daughter of Katie and Packard, just became the world champion Veteran
We had a call from her owner, Carole Bernard in Paris, moments ago.
Rudy, Champion, Excellent, (they have to be ranked Excellent in order to compete
in this show) just became THE world champion veteran at 11˝
at the World Champion Dog 2011 show in Paris.


Rudy is the mother of Theo and Celeste and Jules, grandmother of Solomon and Juno.

____________________ Elijah 1st Show at 9 months ____________________


____________________From the Archives____________________
We found this cute picture of Rhoda with puppies.


Four Generations Again, December 2010
From the left we have Elijah (5 month old puppy), Ben (father), Elsa (grandmother) and LaaLaa (great grandmother).
Laa Laa was the puppy in the January 2000 and the granny in the April 2008 pics below.
Now she is the great grandma!


Four Generations, April 2008
Left to Right:

Ch. Blue Heaven's Catherine the Great (

Katie; 13 1/2; Great Grandmother),


Ch. Blue Heaven's Secret Dance (

Laa Laa; Grandmother),
Ch. Blue Heaven's Katie's Bumper
(Bumper; Mother) and Rosie (4 months)

Four generations, January 2000
From right to left they are Molly (our foundation bitch, great grandmother & ROM,
Ishtar (grandmother and ROM),Katie (Mother & VN), and LaaLaa (daughter).

In this photo, Laa Laa, who is a grandmother 8 years later to the left, was the baby below.



__________________Summer 2010 PUPPIES!__________________

On June 29 Elsa had a litter of one puppy out of Solomon. Elsa is the girl who had 17 puppies 2 1/2 years ago.


On July 2 Juno had a litter of two puppies out of Ben. This was her first litter.

Here are pictures of them at 5 weeks of age and growing up.


Elias at 4 months



Elijah at 4 months

Elijah at 8 months

| | | |
| --- | --- | --- |
| Elsa's son, Elias | Juno's son, Elijah | Juno's daughter, Willow |

| | | |
| --- | --- | --- |
| Be careful, Elias... | Elias, she is just sucking you in... | We warned you, Elias! |

Our beautiful, handsome Ben, son of Solomon & Elsa, at one year.



Our French connection, Tadoussac Newfs.
Left: Blue Heaven's Cosmo pulling Carol Bernard's daughter, Lou Ann, and friend. Cosmo, son of Packard and Annie,
is one of the top twenty working dogs in Europe...which is a big deal, an ocean rescue dog.
Right: Blue Heaven's Bouba pulling Lou-Ann in the cart. Blue Heaven's Rudi standing by.
Bouba was the #l ranked Newfie in France for an entire year!

2007's Year's Mega Litter(s) Puppies Celebrate their Birthdays
Click anywhere on the gallery to go to a page with everyone's pictures!

September 2008
Here is a picture of LaaLaa winning Best Veteran at the Wine Country show on 9/27.
Very proud. She is ten years old, and not only did she look beautiful and move great,
but there are not many ten year old Newfies that can still go around the ring.


Blue Heaven Kennels is a small kennel in Western New York. Many people know us well because of my book, In the Company of Newfies, about the dogs at Blue Heaven Kennels and our relationships with each other.

And many more people know our dogs since so many are in the show ring. Our outstanding characteristics structurally are balance, large heads, soft expression, straight topline and race-horse movement. Our foundation bitch, Molly, and her daughter Ishtar, both now Register of Merit dogs, have produced many champions and titled children. We are extremely proud of them and grateful to them.

We are very proud of our beautiful dogs, but what we take the greatest pleasure in is their sweetness and goodness and willingness to live our lives.
| | |
| --- | --- |
| In August, 1998 we moved from our house of 26 years in Cazenovia, NY to our present home in Port Crane, NY which is right outside of Binghamton. This is the place we had been looking for for years. It is perfect for our Newfie family. It has 140 acres of wooded land laced with old lumber trails. And the dogs have a 10 acre pond all to themselves, except for some resident ducks and some very cheeky beavers. It has been everything we dreamed it would be...and more. We walk constantly with the dogs and we can't keep them out of the pond. | |
History of Blue Heaven Kennels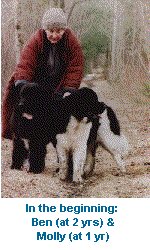 We got our first Newfie, Ben, in 1988. The following year we got Molly. The next year Molly and Ben gave us Ishtar and Celeste. And that was it. We had no intention of breeding again, and we weren't interested in showing.
Until, that is, someone told us we should show Ishtar because she was, in his words, "the perfect Newfie". And so, we suddenly became Blue Heaven Kennels. (The name, by the way, came from the old song, "My Blue Heaven", which goes "Molly and me, and baby makes three, we're happy in our blue heaven.") Ishtar, of course, wasn't the perfect Newfie (is there one?), but she was very good, and 6 months after we started showing her she became a champion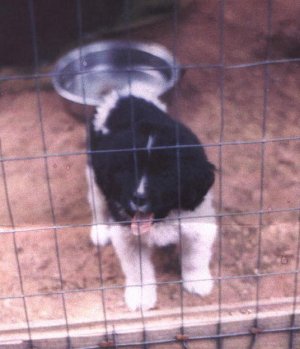 and about a month later took Select at the Nationals. We lost Ben when he was seven, but dear old Molly is still with us. This March she will be eleven and in October Celeste and Ishtar will be ten. In 1998 Molly and Ishtar honored Blue Heaven Kennels by both becoming ROM's at the same time.
Every litter we have had came from Molly. She is the mother, grandmother, great grandmother and yes, even great great grandmother of every one of our puppies. We have four generations here at our kennels and we are so proud that we took a group picture which is on this page (above).
This adorable picture of Molly at five weeks came to us from a friend of her breeder who was a dear friend of ours.

Blue Heaven Kennels
Bob and Rhoda Lerman
phone: 607 648-6199
email: bobrhoda@aol.com
for more information about Blue Heaven Kennels
Last updated:
..for comments about this website contact the webmaster