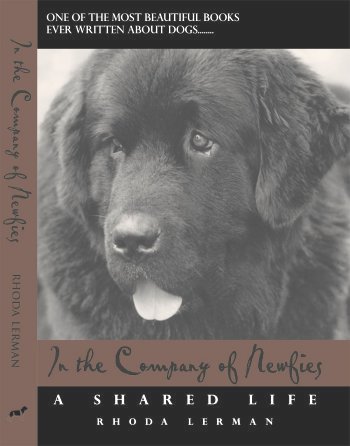 New cover picture - our Ben
With pictures of the dogs

Limited printing - don't wait to order!

NEW! ORDER ONLINE AT
www.blueheavenbooks.com
For more information, contact:
Robert Lerman
607 648-6199
bobrhoda@aol.com
From In the Company of Newfies "This is a book about the dogs who look steadfastly into my eyes and move their lips in vowel shapes, speaking to me as I speak to them, because their life's work is not to be dog, but to be human. They don't dream of running in traffic, of eating puppies, of digging a tunnel in the backyard in a return to feral, the wild, and the distant. They dream of being with me, lying with me, curved into me, each vertebra pressed into me, their great heads over my feet so I can't leave without them. They work to be human, to be other than what they are, something other than dog. And I work to be other than what I am. We stretch our limits and change our lives."

"You'll be in good company with In the Company of Newfies! This is a book you can read and share with your dogs. You can share it with your husband too, although he may not be as much fun."
--Rita Mae Brown, author of Rubyfruit Jungle

Anyone who has ever had a dog knows the unique relationship that can exist between a canine and a human. There is no other animal as loyal, as affectionate, as playful, as trusting, or at times, as peculiarly human, as a dog. In this insightful and engaging book, Rhoda Lerman, acclaimed author and Newfie breeder, shares with us the special world of her Newfoundland dogs. In the passage of a year we witness the growth of a newborn litter of pups as they develop into distinct personalities. We also experience the tragic death of Lerman's first Newf, noble Ben, as he slowly succumbs to cancer. Far beyond a mere study of animal behavior, In the Company of Newfies reveals to us the intimate bond that comes from living closely with dogs and how they inescapably become a part of our very beings.