Blue and Puppy Cheffy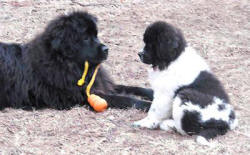 Puppy Dale and Raven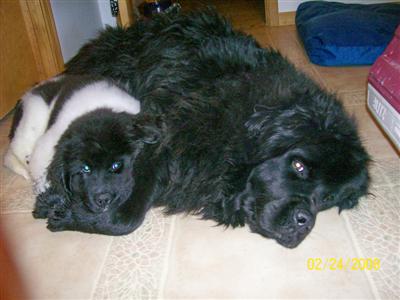 Gunner and his new Aunt Maggie
Maggie really is his aunt!
She is the sister of his mama Elsa.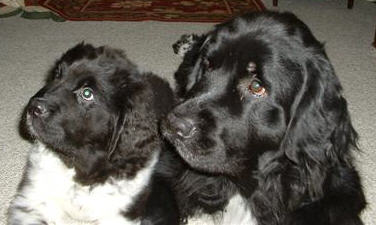 Little Kiya is now a Floridian, who dares you to try to ever tell her "no".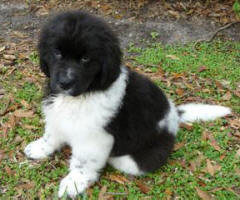 Jersey has found her spot!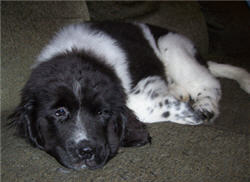 Resident Newfies have paved the way to a cozy life for Thor in his new home.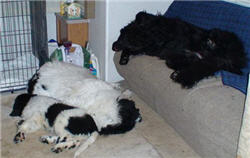 The smiling Brigus.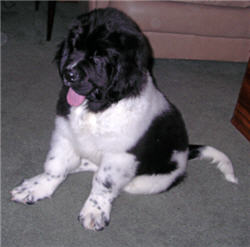 Lovely Olivia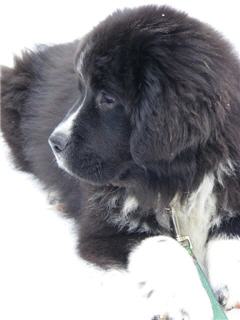 Loki is already learning the family trade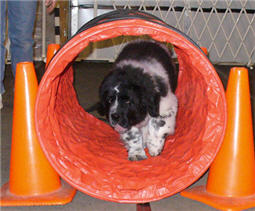 Nana in South Carolina.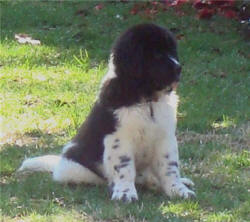 Prince Harry and Princess Grace
in San Jose, California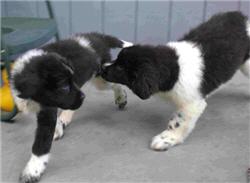 Jeter and Reggie in yet another
picture perfect moment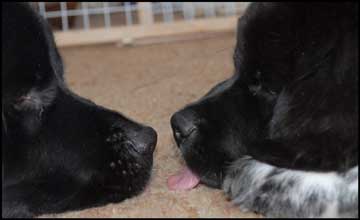 Happy Endings...
3/10: Update. By this week all the puppies will be in their new homes, have names, be free. We're keeping a boy from Elsa and Solomon whom we are naming Ben, a girl from Bumper and Solomon, who we are naming Rosie, and a boy from Celeste and Gus who we are naming Blackjack. We have placed them in wonderful, wonderful homes. We are all very lucky.
Everyone has adapted beautifully. We are very thankful for our new owners.
...New Beginnings
Puppies are landing in their new homes!
(The page got a little wide with these new pics,
just scroll to the right so you don't miss a thing!)
June 23: Newfoundland Regional specialty in New Paltz
At the Newfoundland Regional specialty in New Paltz there were 60 newfs.
There were two events we took part in: puppy sweeps and regular confirmation. The puppy sweeps included 6-9, 9-12 and 12-l8 month old puppies.
Ben won his 6-9 class, then went on to take best of opposite sex of all the puppies: big ribbon. Rosie came in second in her class...a much older girl beat her.
In the regular competition, in which every age of newfie competes, Ben and Rosie both won their 6 -9 month classes. Then all the winners of their
classes...grown up newfies as well..competed. Ben went no further in this competition, but Rosie did an gorgeous performance. Unfortunately she
started to limp (her Pano). But at the end, the judge chose the winning bitch of all the bitch classes. She pulled out the winning bitch, the reserve winner,
and as an honor pulled Rosie out. Both our handler and our trainer said Rosie would have won the entire thing if she hadn't started to limp. It would have
been extraordinary to have a 6 month old pup beat mature dogs...but she did beat plenty of them. If she had won she would have earned five points.
Since you only need fifteen points to be a champion, it was a big deal. She came within a hair of winning the whole thing and we are really proud of her and Ben.
The best part of the day was that Cheffy, Reggie...who also competed and looked handsome...and Leo and Olivia and Brigus were all there cheering
their relatives on. First picture is Olivia trying to sleep as close as she could to Rosie and Ben who did not try to sleep at all.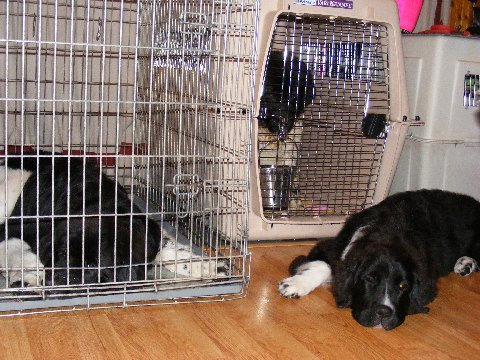 Ben Running

Ben

Ben up front on the right

Rosie Running

Rosie

Happy Easter from Samson & Delilah in Minneapolis, who seem to be following the footsteps of Rollo, Ben & Gus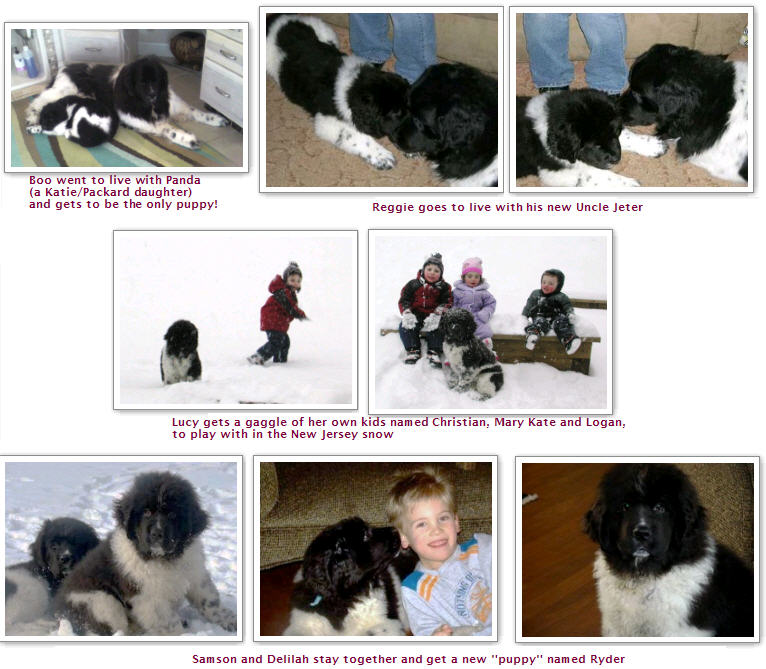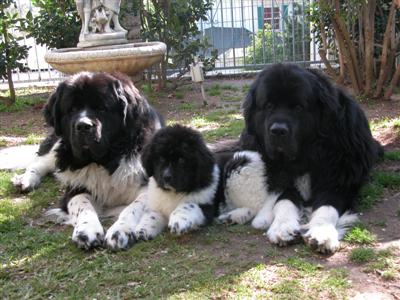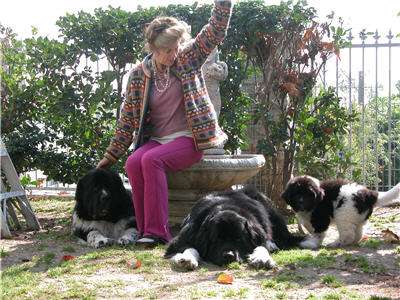 Halo gets two newfies and a Fountain Goddess. He is with his real uncles,
Blue Heaven's Omen and Tadoussac Jules who is a son of Blue Heaven's Rudy.
Cooper arrives at his new home to find two dolled up Valentine Aunties,
Lola and Blue, both Blue Heaven Newfies


Sasha fits right in with Uncle Duncan.
Duncan is the son of our Theo and Pandaga's Addicted to You .
Shakoka sitting for the camera with sisters,
Indigo & Shena. Shakoka flying.


Hank's picture arrived with the
caption,"Hank is very sweet".
Easy to see why.

Caleb, one of Elsa's 17 pups,
now lives in Moorestown, NJ

Here is Clio,
an Elsa daughter,
who lives in State College, PA.

Clio plans to study physics
at Penn State.
She wants to find out
how ice forms in a water bowl.

This is Leo, as in Leonardo,
an Elsa son who lives in Sleepy Hollow, NY


Gideon, Feller of Trees

Picture Perfect Reggie
(see reggie above with Jetter)

The San Antonio Sampson & Delilah (aka Samee and Lila

)


(yes, that's two puppy pairs with the same names)

That's one really lumpy rug.
Oh wait, it's Samie & Lila's new dog.


The Port Crane puppies BlackJack, Rosie and Ben, one from each litter, are staying with us.

| | | |
| --- | --- | --- |
| BlackJack, son of Celeste | Rosie, a Bumper daughter | Ben, son of Elsa |